Taupe lacquered wood, combined with suede in the same colour, were the materials chosen by our client Net Nest  to design his custom made dressing room in a 15 square metre room with views. A luxury project!
 Custom made dressing room by HO By Sol&Luna
An organized man is a blessing!. It really helps us to distribute the different modules in a much easier way. Going through his previous dressing room, we realized the type of clothes he has, how he likes to store them and everything that could be improved to design the dressing room to suit him. The client was clear about what was uncomfortable in his previous dressing room and we saw how it could be solved and better optimize the space.
As we always do in HO By Sol&Luna projects, we present our idea in detail: colour drawings to visualize what each module contains, plans with exact measurements and capacity in each space…
Drawing, plan and graphic with capacity to present one of the modules of our made-to-measure dressing room
On the left side these two modules for folded shirt trays and on the upper side folded clothes grids were necessary. At the bottom, pull-outs for shoe boxes. The result looked like this…
Customised dressing room shirt racks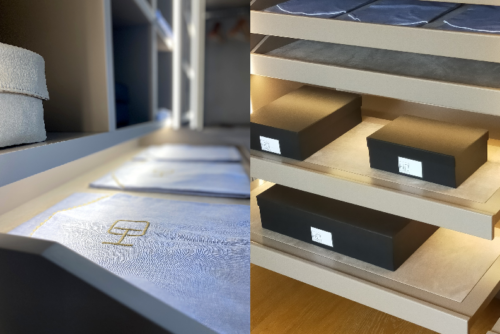 Pupper Pull-outs for shirts and lower pull-outs for shoes. HO By S&L boxes and covers for clothing
Entering on the left, there is a narrow space that is ideal for the slanted shoe rack.  In a custom made dressing room, it is essential to display the shoes in an impeccably tidy way.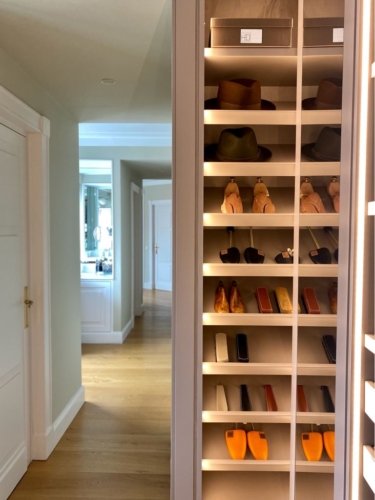 shoe rack in dressing room HO By S&L
The front and corner modules have been designed to hang long clothes, suits, trousers….All your clothes look brand new with the leather and suede hangers HO By Sol&Luna ! On the top, our canvas boxes with leather handles for clothes from another season. And in the corner of the dressing room, our Sol&Luna leather mannequin looks amazing!
Home in Order and Sol&Luna accessories for custom made dressing room
Compartmentalized drawers for stockings, socks, underwear… The aim is to keep in order the accessories that at first sight seem difficult to sort.
Finally, the Island includes a bench for putting on shoes, a board to fold shirts, trays for accessories such as watches, cufflinks, wallets… and a space to hide cabin luggage.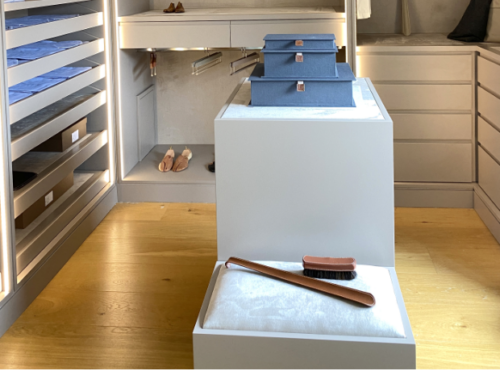 The final touch in custom made dressing room is the lighting. LEDs that switch on
automatically  when we pull-out or drawer and other general lights for the dressing room that
are dimmable.
With the dressing room already assembled, we completed it with the entire Home In Order accessories collection and other legendary Sol&Luna references such as the Valet, the suitcase rack, the mannequin and even the helmet! Everything look perfect!
We hope you liked it. Remember that in our Sol&Luna shop we can help you to design the dressing room of your dreams
SOL&LUNA STORE
C/Núñez de Balboa, 79
28006 MADRID- SPAIN
Tel: + 34 91 7812865