Thinking, distributing and designing dressing rooms and wardrobes for a house. Requests that make us really enjoy our work!
The project includes a customized a dressing room for the master bedroom with a dressing table in one corner; a shoe rack to complete the existing wardrobe front; two customized wardrobes in the girls' room; a customized wardrobe for a specific kitchen niche. All under our brand of Order HO By Sol&Luna! We tell you all about the process and hope to give you good ideas!
Always under the premise that Order is Decoration, we study the type and quantity of our client's clothes and make a whole display of common sense so that everything has its place. Once everything, we include our accessories HO BY Sol&Luna and  the result is spectacular!
The first thing we do is think about the distribution of the different modules and present the idea as graphically as possible so that the client gets an idea of the final aesthetic and most importantly, what capacity according to modules and garments has.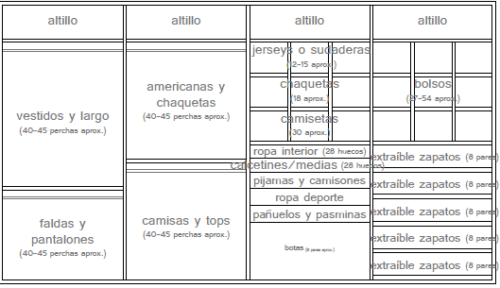 Drawing and graphic with capacity of each module to present our tailor-made dressing room
A custom-made dressing room, 4 meters long, is a lot of fun. We propose 4 modules of one meter with capacity for long clothes, jackets, shirt, pants, folded clothes, shelves for bags and 5 removable trays capable of storing neatly between 8 and 10 pairs each.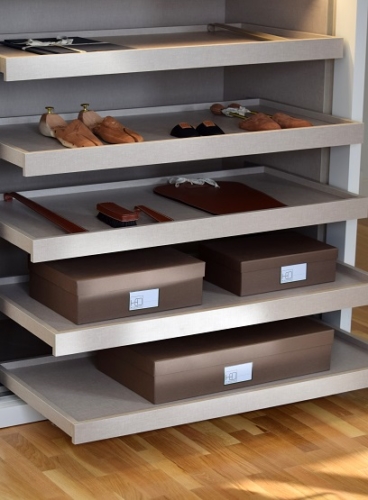 Customised dressing room module for bags and removable shoe covers.
Accessories HO BY Sol&Luna
Two of the drawers are compartments for sorting socks, stockings, underwear…the aim is that those things that are difficult to keep in order are kept in place.
Divided  drawers. Leather boxes for HO By Sol&Luna accessories
The modules designed for long clothes, shorter clothes, trousers… Everything with the leather hangers HO By Sol&Luna looks brand new ! On the top, our canvas boxes with leather handles for clothes from another season, and on the bottom shelves our fabric boxes for accessories. Sliding doors with mirror glass.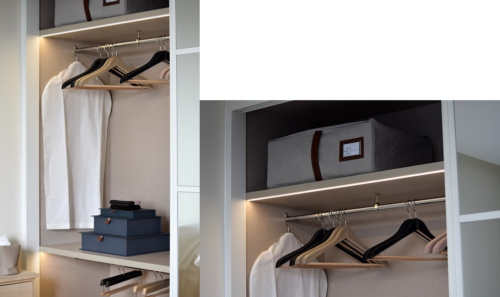 The final touch in the customized dressing rooms is the lighting… LEDs that come on automatically when the door is opened…
In addition to this custom-made dressing room, we designed a shoe rack to complete the cabinets that were already there; 10 sloping shelves for 20 pairs of shoes!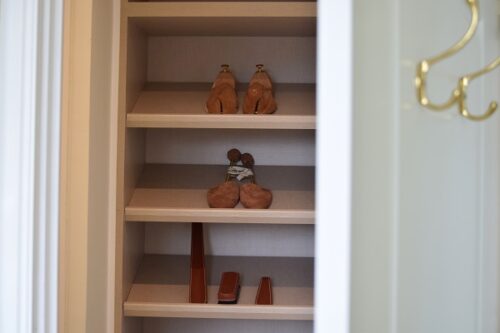 Cedar wood or suede shoe trees. Long and short shoehorn and leather
brush. All are accessories made by HO By Sol&Luna
To finish with the master bedroom, we show you the black/gold lacquered dressing table, with compartmentalized drawers to classify with care the most personal!
We don't have the time in this post for more… we still have to count the custom-made dressers we made in the girls' room and the china cabinet we made on the way to the kitchen! Many ideas on how to turn order into a luxury!
  Leather and suede colours by HO By Sol&Luna
 c/Núñez de Balboa, 79
 28006 MADRID (SPAIN)
 Tel: +34 91 7812865