Summer is Coming!
Sol&Luna's leather coolers
are part of those mythical products of our brand; they display the Art of Leather covering the well-known coolers.
The quality of the coolers, which are able to keep cold for a long time, and the craftsmanship of Sol&Luna, which turns any leather object into Art, are combined.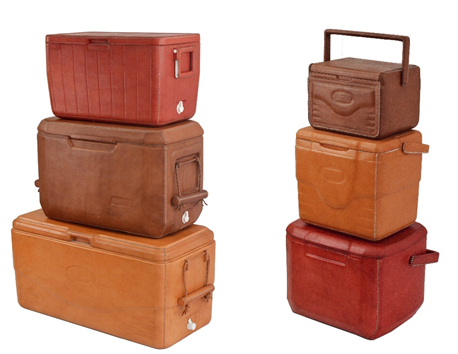 Coolers covered in leather by Sol&luna in 6 different sizes
Available in 6 sizes, Sol&Luna's leather coolers can be used for a getaway for two, a family picnic, a beach day, a boat trip, a big outdoor celebration, etc…  In short, to enjoy even more of those summer pleasures!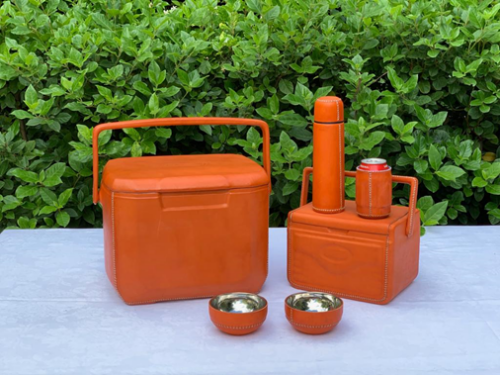 coolers, thermos, can holder and bowl by sol&Luna covered in orange leather. Available in black, natural, Brown and red leather
In order not to spoil the meticulous work made by hand, a careful selection of the object to be covered is also required.
Coleman cooler covered in natural leather. Also available in brown, black, red and orange
We also offer the can holders!; the luxury of keeping drinks cool in leather sheaths sewn with our characteristic cross-stitch.
Can holders covered in leather from Sol&Luna. Availalbe in natural, Brown, black, red and orange leather
Other Sol&Luna products covered in leather accompany the pleasures of summer…, thermoses in various sizes, jugs, flasks, bucket and even a watering can ! Utility is not incompatible with luxury!
Summer pleasures with Sol&Luna
Don't forget to have your garden ready! Now that we are more at home we have learned to take care of all the details!
Garden bucket, watering can and the set of garden tools all covered in orange leather by sol&Luna
You've earned it! Enjoy the pleasures of summer with all the luxury of Sol&Luna!!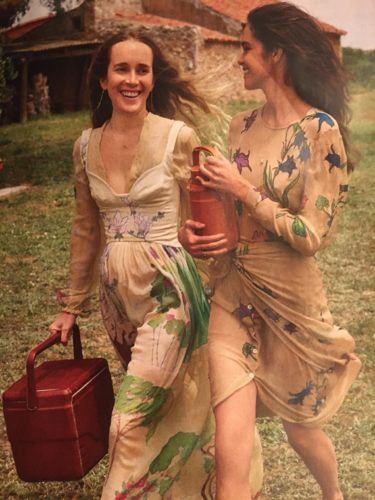 SHOP SOL&LUNA
c/Núñez de Balboa, 79
28006 MADRID- SPAIN
Tel: (+34) 91 781 28 65