Sol & Luna displays the Art of leather to cover lots of beautiful presents for Christmas.
Vases / cashe pots covered in leather for Easter flowers, pine cones, Christmas balls….
This year we have taken the rest. When we started to devise Christmas we thought, how lucky we are! , our essence gives us infinite possibilities to turn any object into The Art of leather. Who else can achieve this premise?
And so we did, an endless list of things that we could turn into unique leather objects; Christmas ornaments, gifts and ultimately lots of items that Sol & Luna could cover to create that warm, familiar, cozy, exciting Christmas atmosphere.
Wooden reindeers covered in red leather
The first on the list were the mythical reindeer; covered in red and brown leather sewn with the characteristic cross stitch. All handmade by the artisans of Sol & Luna, who turn every leather object into Art.
Ready to distribute Christmas gifts. We could not miss the mythical sled, covered in natural leather and full of presents from Sol & Luna to surprise this Christmas!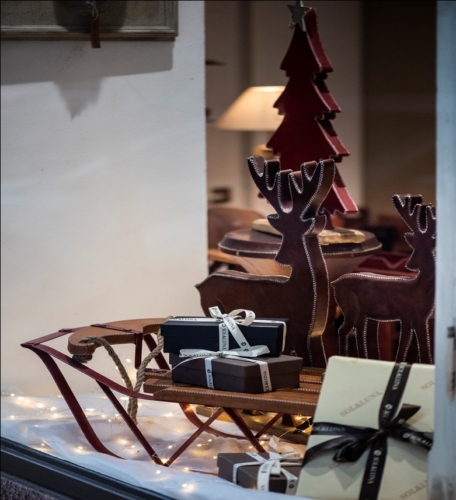 Wooden reindeers covered in brown leather with sled covered in natural leather
The only limit: the time … the hands of our artisans could not go faster … Cut, sew, and prepare the leather to interpret our ideas into Christmas presents.
We were able to get our Sol& Luna Christmas trees!. Also covered in red leather and the result has been truly spectacular!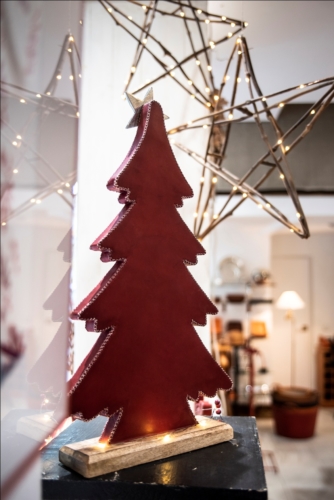 Sol & Luna Christmas tree covered in red leather
Reindeers, trees and sleds are our leather-lined objects for this Christmas. Lights, stars and lots of gift ideas, have turned Sol& Luna store as a mandatory stop these days!
Showcase Sol & Luna. Christmas 2019
All that remained was to set the table… once again we were very lucky! Lots of exclusive brands to accompany our leather at Sol & Luna Store!  Crockery, cutlery, glassware and the magic touch of Paz Quijano decorating tables to put the final touch on our Christmas atmosphere. As Christmas marks, the red leather stands out with with chairs, placemats, snack bowls, etc.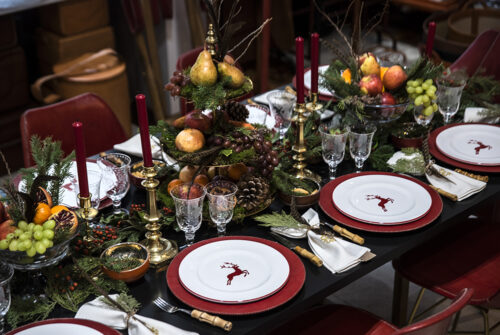 Table decorated by Paz Quijano with chairs and red leather items from Sol & Luna. Black lacquered table, Crockery and glassware also available in Sol & Luna
Hope to see you soon! Merry Christmas!
SOL&LUNA STORE
c/Núñez de Balboa, 79
28006 MADRID
Tel: 91 78128665
Web: www.solxluna.com