Spanish craftsmanship is booming and is becoming more important than ever in the decoration sector. This tradition also joins the current of Sustainability more and more present in everyone's conscience.
The Art of Leather of Sol&Luna joins this movement mixing the skill of its Artisans with the Craftsmanship of glass, which develops products with traditional techniques of blowing and pressing, using 100% recycled glass.
100% recycled Crystal pieces covered in leather
Sol&Luna's new collection mixing leather and recycled glass is made up of 9 references; two round carafes (large and small), small bottle for a candle or a flower, large container for a candle, "peasant" jug, medium carafe, XL bottle Rioja, large flower vase and a Damajuana bottle
New collection recycled crystal and leather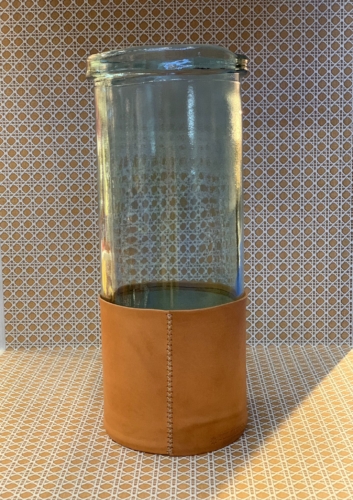 Sustainability has to do with recycling, durability over time and with the different uses we can give to the same product. In this sense, these glass containers wrapped with Sol&Luna leather can be used for many purposes, as flower vases, candle container, wine decanters or carafes. We can also use it to decorate a corner of the bathroom or make a wonderful still life in our kitchen, etc. ….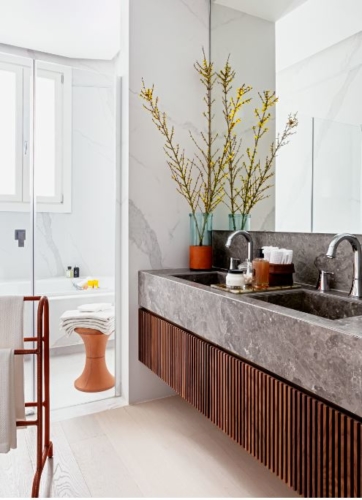 Flower vase with leather sash in a bathroon
Glass and red leather carafe on a dining table
This mix of disciplines is a good opportunity to promote Spanish Crafts in general and at the same time Sol&Luna once again demonstrates its Art of Leather and the enormous capacity it has to be associated with any material.
S&L Set of two carafe with leather sash
The fusion of the two materials results in a product full of art, decorative and sustainable.
We invite you to visit our shop and see the result of leather craftsmanship in perfect harmony with sustainability.
We look forward to seeing you!
S&L 5 leather colors
SHOP SOL&LUNA
C/Núñez de Balboa, 79
28006 MADRID
Tel: + 34 91 78128665