In Sol&Luna you will find a great variety of leather objects that will become your most faithful allies during this cold winter
.
leather basket in natural leather
In our effort to wrap everything in leather, these days we thought we should immediately start looking for a good snow shovel and cover it with leather.
In the meantime, we can offer you very useful objects wrapped with the warmth and personality of our leather, that there turn into authentic pieces of " Art of leather".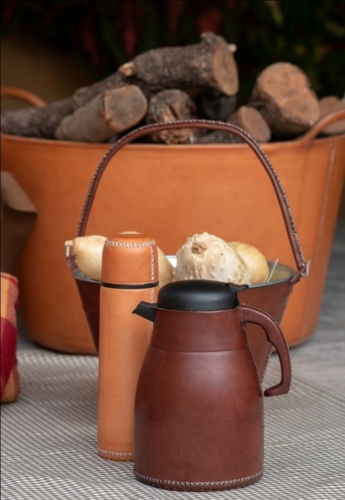 Sol&luna Thermos Jug in Brown leather.  Sol&Luna thermos in natural leather
Our collection of leather-lined jugs and thermoses and the flask, help us to continue enjoying the outdoors; that soup that is kept warm on walks in the countryside or in that little bit of winter sunshine… In any of our five colours, brown, black, orange, red or natural, these leather objects are chic ideas for fighting the cold!
Thermos range covered in natural leather
If the excursion is more numerous don't forget our well-known Coleman leather-lined coolers. They are available in 6 different sizes and are ideal for any picnic!
In addition to ideas to combat the cold, at Sol&Luna you can find everything you need to have a very special picnic… All kinds of thermoses and jugs to keep things warm
Coleman coolers , trays, ice buckets, thermos . leather objects for a fantastic winter picnic.
Returning to the task of fighting the cold and in the absence of our large snow shovel, we have taken out some of our garden tools which with our leather wheel barrow  have been very useful in removing ice and snow!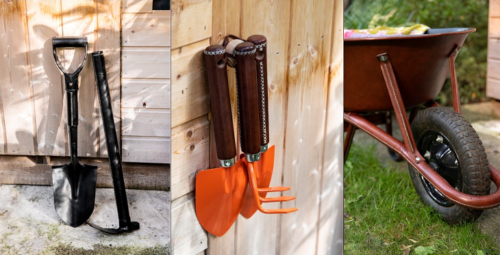 Set of garden tools and Sol&luna Wheel barrow covered in leather.
Now back, having won the battle with all our leather references as ideas to fight the cold, it's time to relax around the fireplace with a nice  blanket.
    Range of leather baskets form HO by Sol&luna Collection
STORE SOL&LUNA
C/Núñez de Balboa, 79
28006 MADRID
Tel:(+34) 91 78128665