The Art of Leather and the Art of Wickerwork
Spanish craftsmanship is a trend. Decorators, designers, architects, Institutions and the world of culture in general are committed to support and promote Spanish craftsmanship.
The Art of Leather of Sol&Luna joins this movement, mixing in this case the skill of its Artisans with the Art of wickerwork, a discipline that has been deeply rooted in Spain for centuries.
Sol&Luna´s Art of  Leather, showing the cross stitching, holding a wicker tray
When we started to think about how to combine both crafts, we found that there were all advantages; on the one hand, the Art of Leather brings warmth to the wicker, on the other hand, wickerwork "refreshes" the leather pieces and helps us to demonstrate once again the versatility of our products, this time ready to show off in the summer season.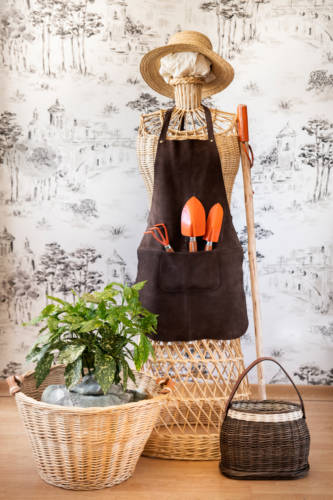 Wicker mannequin wearing S&L apron.
 Inside the  pocket garden tools with S&L leather handles.
 S&L wicker bag and basket with leather handles.
In all the pieces that we "tune" you can appreciate Sol&Luna's Art of Leather, and at the same time enjoy the beauty of the wickerwork in its most original and decorative version.
        S&L leather helmets on a wicker hat stand. S&L wicker bags and ice bucket with leather handles.
This mix of disciplines is a good opportunity to promote Spanish Crafts and at the same time Sol&Luna once again demonstrates its Art of Leather and the enormous capacity it has to match with other materials.
The combination of these two materials results in a product full of Art, decorative in any context, elegant and practical.
We invite you to visit our store and see the result of the Leather Craftsmanship in perfect union with the Wicker Craftsmanship. We are waiting for you!
SOL&LUNA STORE
C/Núñez de Balboa, 79
28006 MADRID
Tel: + 34 91 78128665