Sol&Luna's New Products For The New Year
2022 starts for us with a whole display of the Art of Leather  
January is the most exciting month for us…we spend the year developing new products and they finally go on sale!!!!
Sol & Luna braided leather basket
The biggest "problem" we face is often that our "mind" goes much faster than the hands of our craftsmen who need time to turn each piece of leather they sew into Art. Taking into account that this year we have started using the braided leather technique, which has resulted in our new baskets and benches that our customers have been asking for a long time.
S&L braided bench with iron base. Available in three sizes small, medium and double
Continuing with the seating collection, this year we have also put the Art of Leather at the service of this product category and we have launched the Mariana Chair and the new collection of armchair and stool Lambaré. In both cases with a  much modern design and very versatile as a sign of identity of  our leather.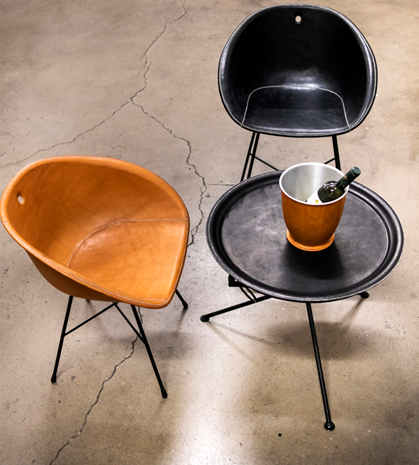 Armchair Lambaré  and folding round table S&L 
While we were shooting the photos of our new Lambaré armchair we saw the need to include new coffee tables with straighter lines … We can't say "Said and done" because any product development takes time and using the Art of Leather  even more time! But we have been able to add to our collection of tables and consoles, new square and rectangular coffee tables with leather top that are very light and useful.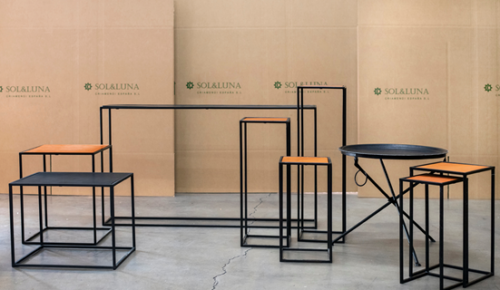 Sol&Luna collection of tables and consoles in iron and leather top
In addition to planning certain developments that we have in mind, others arise due to the needs of the moment and consumer demand. This is the case of the desktop collection, which became essential for many people who is working at home..
Every year we think about how to put the Art of Leather at the service of a beautiful dining table. It has been great fun to cover bells, beyond their former function, have turned out to be very decorative! And this year we finally launched the leather napkin rings in 5 different colors!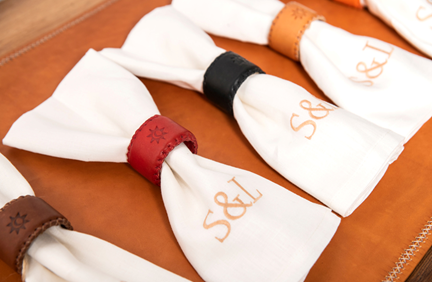 Leather napking rings Sol&Luna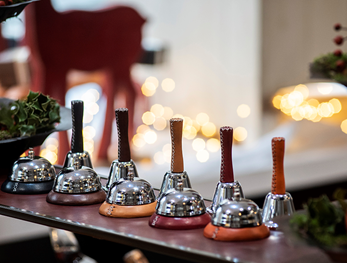 Finally, a preview of our next collection that mixes recycled glass and leather, we have made a first test and the result are these carafes with removable leather sash, available in two sizes, which are perfect!
We have a few more novelties that we prefer not to reveal!
We are looking forward to exhibiting all our Art of Leather at the next Maison&Objet Show (Paris. March 2022).
If you can't wait, visit our showroom!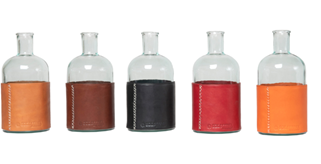 STORE SOL&LUNA
C/Núñez de Balboa, 79
28006 MADRID – SPAIN
Tel: (+34) 91 78128665